PuraShield Protects Students and Teachers Returning to the Classroom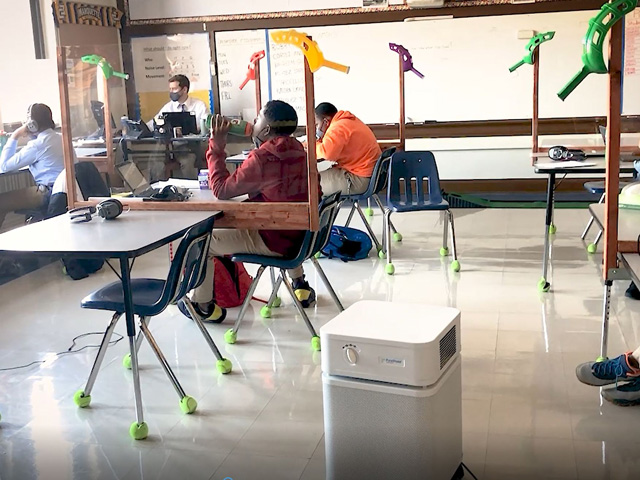 The Challenge
The COVID-19 pandemic posed unprecedented challenges for K-12 schools, forcing many schools to shut their doors and rely on remote learning. But for many students in the most at-risk communities, in-person school is absolutely essential. School provides critical resources, a supportive environment and a safe place to learn. One of those schools is Chicago Jesuit Academy, located in one of the most dangerous neighborhoods in the city. The CJA leadership team decided they had to find a solution to keep their doors open—while keeping teachers, staff and students safe from airborne pathogens.
The Solution
The PuraShield 500 was designed to quickly and effectively remove aerosols that carry viruses, bacteria, smoke, and mold from the air. Each of Purafil's PuraShield 500 air scrubbers has four unique filters that are used to remove 99.99% of aerosols carrying viruses. The four filters include a pre-filter, which traps large particle matter including dust and pollen, a molecular filter, which eliminates viruses from the air, a PuraWard filter, which is protected from viruses and bacteria using ions including copper and silver ions, and a HEPA final filter that traps particulate matter.
The Results
Chicago Jesuit Academy was able to open its doors to students in the fall of 2020—while most other schools remained closed—and beyond, by adding PuraShield Scrubbers to its classrooms, gathering spaces and offices. PuraShield Scrubbers remove aerosols carrying viruses, allowing for a safer return to school for students and staff members. This allowed the students at CJA to get the education they deserve, while maintaining the support structure, productivity and social enrichment that are critical to their future success.